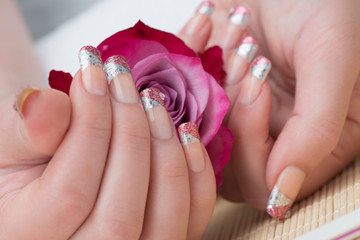 When spring is coming, it is the best time for thinking of new nail designs. Hands are what all women take care of. They want their hands to look nice. Modern trends that allow mixing colours, gives the possibility to come up with extraordinary nail designs. There are colours that look stunning, and will go well no matter where you work. Beauty experts claim that purple and silver nail designs are the trend of this year. They were popular not only in spring and summer but the trend will continue until the end of the year.
How To Combine Purple And Silver Colours
Pattern ideas for silver and purple colours vary, depending on the purpose. The design that you apply, for example, for a wedding might different from what you select for a birthday party.
Floral design. Floral patterns always have delicate and soft. Women usually choose this design for everyday life. However, this pattern is also a great choice for an occasion such as wedding or birthday. Silver flowers look amazing on a purple background but you can also try purple flowers on a silver background. This design gives a lot of freedom to your imagination.

Rhinestones and decals. These are elements widely used to decorate nails. Unlike painting flowers, they are easier to apply. Rhinestones are similar to flowers or small colourful pieces put on top. Decals are stickers that care put on nail polish. There are many different ways to combine them with nail polish. Good news is that you can use both colours of nail polish, and they will look great.

Graphic. If you are looking for something extraordinary, than graphic pattern is your choice. Graphic patterns using silver and purple with some other colours such as gray give an amazing result. Your nails look classic and unusual and the same time. This design can be applied not only for an occasion but also for an everyday usage.

Polka dots. This pattern has been always popular, and keeps its trend even now. The only one thing that differs is a colour. To make your nails look alluring, you should put purple dots on silver nails. Your hands will glitter and attract attention.

Mismatched patterns. Modern trends say that both hands should not be the same. Silver and purple will look cohesive no matter how you combine them. It is even possible to apply various patterns on both hands.  
You are not limited by the ideas mentioned above. Nail design is where you have complete freedom of imagination. Silver and purple design will make your hands look stunning.