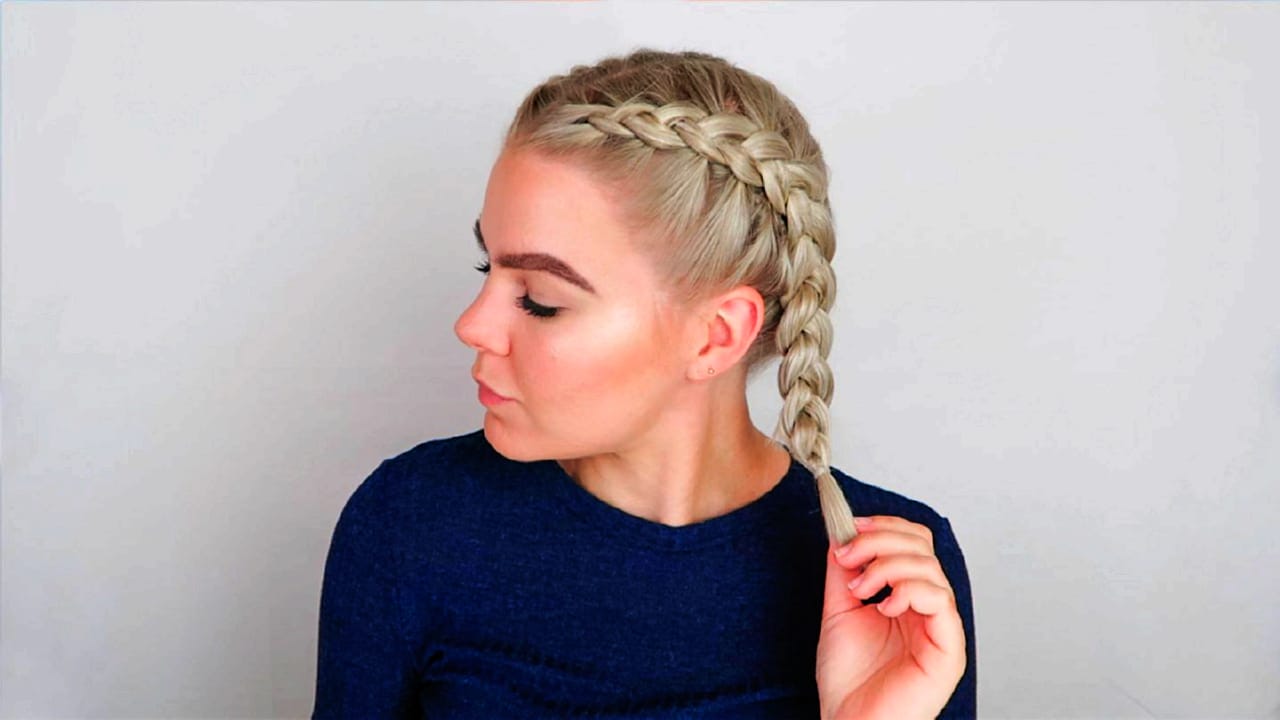 French braid, spike, twist, sloppy braid – there are a great many variations! And for those who are ready to spend some time at the mirror, creating this incredible braided beauty, today we will tell you what braids will be on trend this year, share ideas for hairstyles with braids for medium length hair and make a list of necessary accessories.
Features of hairstyles with braids
Each type of hairstyle has its own advantages and disadvantages. For those who are just about to add new weaves to their lives, we have compiled a handy list of pros and cons of braid hairstyles.
Advantages of hairstyles with braids
Braids never go out of style: it is a universal detail that will decorate any image.
Each and every braid will add femininity; this fact does not need any proof.
Braids are comfortable: you can "hide" not perfectly clean curls and quickly create a neat hairstyle.
If you go to bed with wet hair braided into a braid, you can get gentle waves the next morning.
Perfect and, most importantly, a simple evening hairstyle for almost any occasion: wedding, graduation, anniversary, society reception.
Disadvantages of hairstyles with braids
The hair length matters: alas, on short hair or a graduated haircut, the plait can't be braided.
Requires a certain skill: the styling is mostly carried out in the back zone, which is poorly visible, and the ability to weave complex braids comes only with experience.
Did you like the article? Sign up for the newsletter!
What you need for braiding
Braids require a great deal of preparation. Here's what you'll need for that perfect braided hairstyle – make sure you have everything you need on your bathroom shelf!
Basic tools
A hair dryer with a concentrator nozzle;
a fine-toothed comb;
A comb with wide, sparse teeth;
a set of elastic bands in different sizes;
hairpin set;
set of hair extensions.
Braiding: master classes from stylists
The best braids are obtained if you braid not very clean curls – at least a few hours after washing. Immediately after shampooing, hair is bouncy and springy, and that's not exactly what you need for the perfect braid.
Before any braiding, take care of the root volume: apply a special mousse to the roots of the hair. A braid is a heavy element that will contribute to a "flat top."
Apply some texturizing wax to your fingertips to make braiding more comfortable. Just don't overdo it, or you'll end up with something ungroomed instead of the perfect look.
Don't deny yourself the pleasure of loosening a few strands after the hairstyle is done: a slight, elaborate mess makes the style look natural.
Making braids: step by step braid schemes
If you dream of creating incredible hairstyles with braids, it's important to master a few basic braids that are used in most beautiful hairstyles. With our step-by-step instructions, it won't be difficult at all!
French Braid
Separate three strands from the top of your hair.
Intertwine the left and center strands.
Intertwine the left and right strands.
Continue braiding, adding an extra strand from the free zone to each strand.
For the final touches, secure the braid with a strong hair band.
Braid
Detach three strands from the top of your hair.
Intertwine the left and center strands.
Intertwine the left and right strands.
Continue braiding, alternating side strands with additional strands from the free zone.
At the end, fix the braid with a strong hair band.
Fishtail
Divide the hair into two parts.
From the edge of the right side of your hair, separate a thin strand and flip it to the left.
From the edge of the left side of the hair, separate a thin strand and flip it to the right.
Continue braiding, adding thin strands from the right and left side.
Fix the braid with a strong rubber band or a hair clip.
Hairstyles with braids on medium hair: fashion trends
Now that the basic methods of braiding are already mastered, it is not difficult to create one of the most fashionable hairstyles with braids. Choose the option that you like, and start doing wonders right now!
French Waterfall
A surprisingly delicate hairstyle that doesn't require much time. The resulting braid will be the "threshold" of a real waterfall of curls, which can be beautifully curled to maintain the look.
Bunch and plait
The usual bundle will play with new colors, if a maiden's braid is wrapped around it with an elegant ribbon. And you don't need any additional accents in the image!
A crown of plaits
For our princesses a real braid crown! The plaiting can be any, your choice – most importantly, to fix the result well, so that the crown crown crowned the crown on the crown to the very end of a long and busy day.
Greek Style
To feel like a heroine of an ancient myth at least for a day is a separate pleasure! Allow yourself to become a Greek goddess, just by creating this delicate miracle on your head.
Beautiful hairstyles with braids on long hair
Owners of long curls do not need to explain that completely loose hair is at least uncomfortable, though stunningly beautiful. Use the newly acquired skills of weaving to make a construction on his head is not less beautiful hairstyle with plaiting.
Braids and loose hair
If you absolutely do not want to take away the curls, but your soul demands a variety, complement the free-flowing curls with a careless braid. It is beautiful, not banal and very fast!
Shell
If the occasion requires, and time permits, long-haired beauties can complement the image stunning hairstyle – sea shell, which will make anyone the queen of the evening. Here we need the skill of weaving a French braid and a little patience.
Braid with a ponytail
Just a ponytail is boring, but the tail in combination with an elegant braiding is already unusual! Start braiding any braid from the very top, but stop at the base of the neck: then leave your hair free to flow. Isn't it great?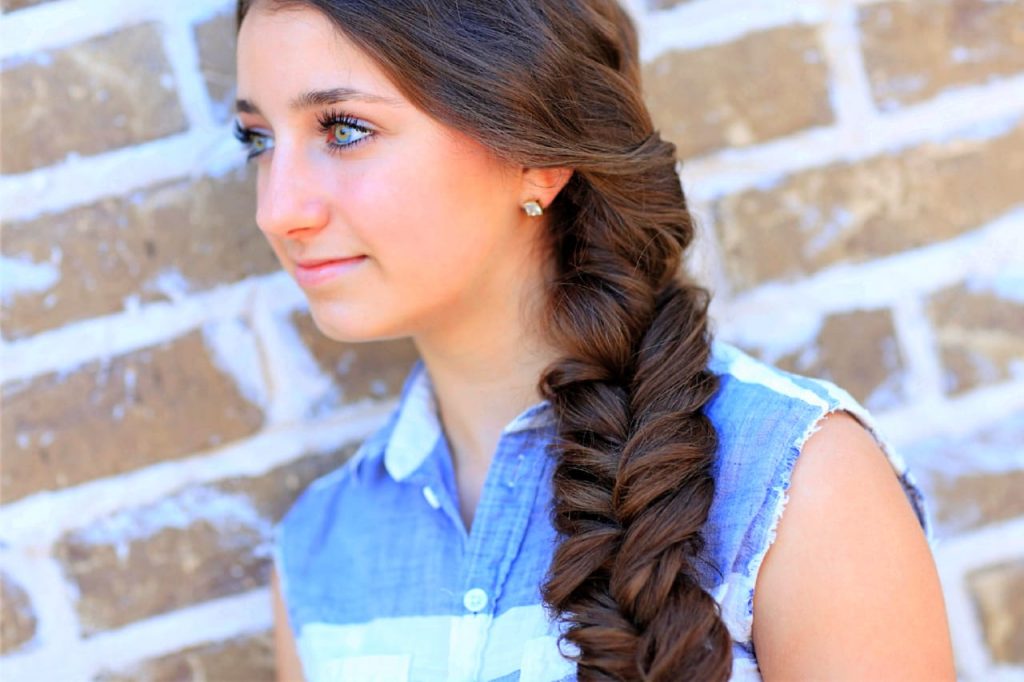 Important question: what about bangs?
If you recently cut your bangs because of an impulse, and now you're going to wear your hair with a plait, that's okay! We will tell you how to seamlessly "weave" bangs into your new look.
Backwards bangs
If your bangs are long enough, you can always comb them out and tie them in place with bobby pins at the beginning of the plait. No one will even think that you have bangs!
Side parted bangs
You don't have to hide the bangs, though. Why deprive others the opportunity to admire the beautiful strands? Stack your bangs to the side, giving them extra volume with a light combing.
Braid bangs
If you're going for a Greek hairstyle or any style where a braid wraps around your forehead, simply weave some of your bangs in too – it will give your bangs more volume and it will save you from ever-dropping curls.
A headband to go with it
If all the other options cast a gloomy gloom over you, use a headband: it must be thick and wide, so it does not stick out the ends of bangs. If they do stick out a little – use a styling gel with discipline!
Braids are a tricky business! But after mastering a few basic techniques in front of you opens a wonderful world of stunningly beautiful hairstyles. Go ahead – for new beauty trends!