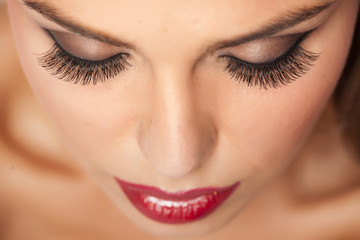 Red and black eye makeup is definitely one of the most impressive and eye-catching ones. Such vibrant shades can't remain unnoticed – they not only emphasize the beauty of the eyes, but also make any eye color more saturated. Applying black and red eyeshadows, it becomes possible for you to create an edgy, trendy and incredibly fashionable look which won't leave any person indifferent and make you stand out from the crowd.
Creating An Unforgettable Look With Two Vibrant Shades
There are lots of diverse red eyeshadows which can be used in order to create an eye-catching look, starting from the classic red and ending with mahogany one. Such eyeshadows are suitable for ladies with any skin tone, hair and eye color making it possible for them to emphasize all their good sides.
It's definitely worth taking a few nuances into account when willing to apply red eyeshadow in order your eyes not to look sad, unhealthy and too red:
Don't put red eyeshadow all over the eyelid. It's suggested to apply such a vibrant shade mixing it with other hues.

You have to also pay great attention to your brows – don't forget to fill in eyebrows and choose a pencil, mascara or gel matching with your hair color. Don't forget to also determine your brow shape at first.

Red eyelids have to be the only vibrant focus of your look. It's essential your lips to be light or nude as well as don't put too much of a blush.

Black or brown eyeliner will help you make your eyes bigger, while black mascara will make your makeup complete.
Red and black eye makeup is chic and elegant. Black and red smokey eyes is an excellent choice for any formal event or a party – such eye makeup makes it possible for you to draw attention and create an edgy look. Don't forget to finish red and black smokey eyes with volumizing mascara in order to look even more eye-catching.
You have to determine what red shade is suitable for you before getting down to applying makeup, such a way it will be much easier for you to do the most impressive red and black eye makeup. Ladies with dark eye color may give preference to wine, mahogany, cherry shades, green-eyed girls may choose burgundy and orange red eyeshadows, while women with blue eyes can choose light red, rose and Indian red colors. Don't forget to also determine how much eyeshadow you need to apply for your makeup to look good.